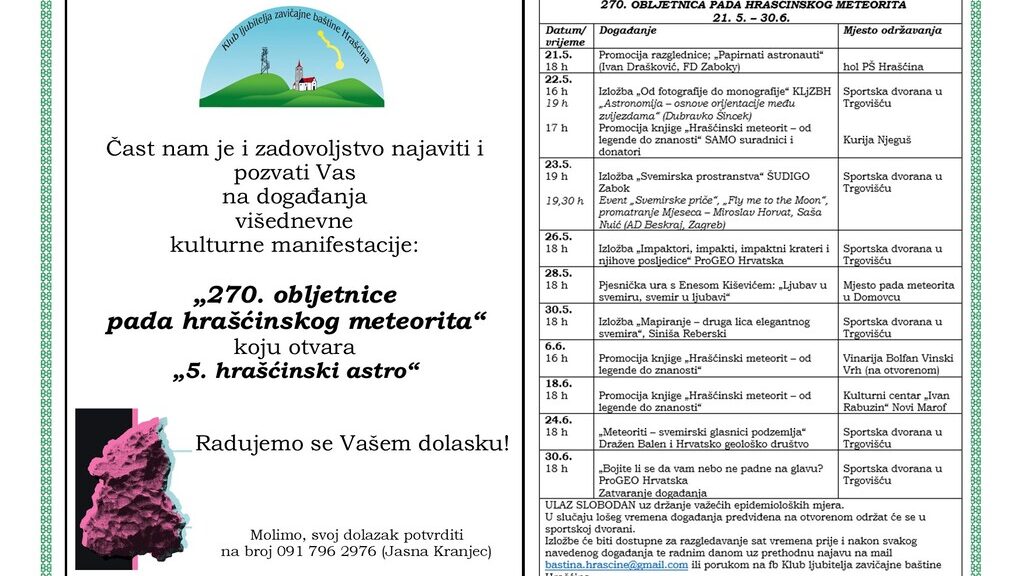 Hrašćinski astro 2021.
Hrašćinski astro 2021.
Ove godine Hrašćina slavi 270. obljetnicu pada hrašćinskog meteorita i pri tome organizira višednevne kulturne manifestacije na temu svemira.
U prilogu vam šaljem program.
AD Beskraj kao i svake godine sudjeluje na hrašćinskom astru, a ove godine nastupamo 23.05 u nedjelju od 19:30h.
Miroslav će održati predavanje pod nazivom "Svemirske priče", nakon čega slijedi Saša s kratkom uvodnom pričom o mjesecu "Fly me to the moon", nakon koje bi se preselili na otvoreno i kroz teleskop promatrali mjesec.
Događaj će biti organiziran u skladu s epidemiološkim mjerama.
Nadam se da se vidimo!
Iva